Business Incentives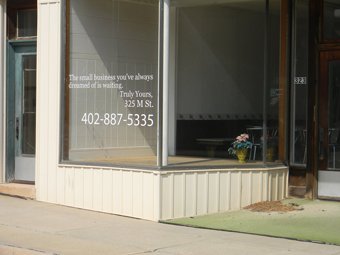 ---
Neligh Local Sales Tax Loan
Neligh passed the Local Option Municipal Economic Development Act LB 840 in November of 2011. This gave us access to ¼ percent sales tax to use for economic development. The Neligh Economic Development Office offers low interest and potentially forgivable loans to businesses that are looking to expand or start up in Neligh. If you would like to apply for a loan or are interested in hearing more about the program, either download the application packet or call the Economic Development Office.

Tax Increment Financing
Tax Increment Financing (TIF) is a public finance tool designed to spur redevelopment for municipalities. The property tax increases resulting from a development are targeted to repay public investment in a project. The City of Neligh will proactively use TIF to help assist new or expanding businesses. Please contact the Economic Development Office for more information. For more information regarding TIF please contact the Re-Development Authority of the City of Neligh.

Rural Economic Development Loans and Grants
Since Neligh is a power generation town we have access to Rural Economic Development Loans and Grants (REDLG) through the Department of Agriculture (USDA). The City of Neligh has the ability to lend up to $350,000 at zero percent interest. As payments are made, the money will be placed into a revolving loan fund that the City can re-lend.

What types of projects are eligible?
Non-profit and public bodies that embark on projects that create and enhance jobs.
Visit the Rural Economic Development Loans and Grants website

Rural Enterprise Assistance Project (REAP)
REAP is a rural micro-enterprise lending organization created by the Center for Rural Affairs. Through REAP you can create a business plan, research potential markets and marketing ideas, discuss management issues with experienced business specialists, and apply for a small business loan. Started in 1990, REAP has provided business development services to over 10,000 micro businesses. REAP has placed over $5 million in loans and leveraged over $11 million in additional funds from other sources due to our assistance.
Visit the Rural Enterprise Assistance Project (REAP)

Nebraska Advantage
The Nebraska Advantage was designed to create a business climate that makes Nebraska the preferred location for starting and growing your business. In this progressive, pro-business tax climate, corporate income and sales taxes are reduced or virtually eliminated. For details on Nebraska Advantage, contact the Nebraska Department of Economic Development.
Visit the Nebraska Advantage website

Nebraska Micro-enterprise Tax Credit
The Nebraska Advantage Micro-enterprise Tax Credit Act is administered by the Department of Revenue. The program provides investment tax credits (equal to 20 percent of the new investment, with a $10,000 lifetime limit) to applicants for creating or expanding micro businesses that contribute to the revitalization of economically depressed areas through the creation of new or improved income, self-employment, or other new employment in the area. For example, if you invest $50,000 in your business and meet a few other criteria, you are eligible for a $10,000 tax credit. Please visit the Nebraska Department of Revenue's website for additional information or contact our office.